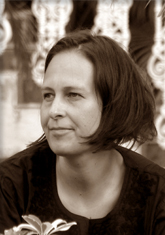 Barbara Essl
About me
Travelling and painting - for me, these two things are inextricably linked with each other. A journey begins first and foremost in my head, just as a new painting emerges from a single point on a blank sheet of paper.
If you set this point in motion, it will form a line and this line will show a direction. It's like arriving in a foreign, unknown country without any particular destination in mind.
I love arriving leisurely, I sit down, take a deep breath and wait for the things to come. Then the direction in which I am going to move emerges all by itself, and the adventure can begin.