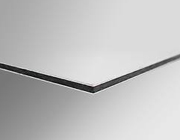 Alu-Dibond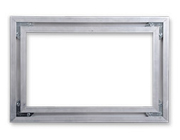 Aluminium Frame Rear Side

Lambda/Alu-Dibond
Here you can learn more about the exposure technique used
My original paintings were photographed at the photo studio Mitterbauer by Heinz Mitterbauer and exposed with a lambda printer. I deliberately decided against post-processing my pictures digitally, as a journey cannot be edited either.
Lambda Laser exposure
A Durst Lambda is a large-format digital laser imager for high-resolution exposure of images. Digital image data are exposed via laser directly onto "real" photographic paper and developed with conventional photographic chemicals. In this way a high colour density with unsurpassed brilliance can be achieved. This method is widely used for galleries, museums and trade fairs, by everyone who is uncompromising when it comes to quality and prefers the unmistakeable charm and elegance of photographic surfaces. The exposed image is then laminated to a Dibond sheet and sealed with a UV-protective film.
Alu-Dibond (2
mm

thickness)

Dibond is an aluminium composite panel consisting of two white aluminium sheets which are bonded to a black polyethylene core. This material is easily formed and yet extremely stable, flexible and lightweight. The sheets are then mounted to a slightly recessed aluminium frame, which is 3cm wide and 9mm thick and glued to the rear side of the picture. This gives the Dibond panel even more stability, and the picture appears to float away from the wall.